Appreciation ZOOT.SK IS THE WINNER OF PRESTIGE AWARD "SHOP OF THE YEAR 2016" IN SLOVAKIA!
ZOOT succeeded up against competition of many e-commerce projects on the Slovak market. The results of the eighth annual ShopRoku (Shop of the Year) 2016 Contest, held by Heureka, have been announced. And Slovak ZOOT stood on the winners' podium together with gigantic online stores such as Mall.sk and Notino.sk.
The online store winners were announced at a celebrate awards ceremony held in Bratislava. As in previous years, companies competed in three separate Awards categories; The Quality Award, The Popularity Award and The Heureka Award, which was elected and assessed by an expert jury panel.
The Most Innovative E-Shop
ZOOT is the winner of the Heureka 2016 Award. An expert jury made up of renowned Slovak and Czech e-commerce business persons elected the winner.  ZOOT.sk was declared the most innovative e-shop of 2016. "This new online shopping concept has become very popular in Slovakia. ZOOT's outstanding customer service and its fair approach, in giving customers the opportunity to try on items of clothing before purchasing them, determined why we chose to award this company,"  explained Tomáš Braverman the Chief Executive of Heureka, who was also a member of the expert jury.
Motivation for the Future
"We are very honoured to have received this award and the whole team at ZOOT is ever so happy about it," said ZOOT's Country Manager Jana Kutlíková. "Nonetheless, each new award enlarges our commitment to continue to work with enthusiasm and with an innovative approach whilst bearing in mind our customers' satisfaction at all times," added Jana Kutlíková.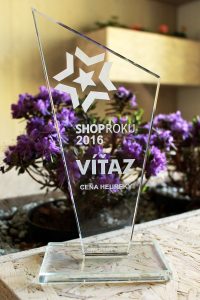 Other posts