Uncategorized ZOOT LAUNCHED NEW CAMPAIGN AND OFFERS SOMETHING FOR CHRISTMAS.
In mid October, ZOOT launched a new marketing campaign offering Czechs and Slovaks that special SOMETHING for Christmas. For the very first time ever, ZOOT opened a tender for a creative agency. "Up until now, all of ZOOT's campaigns were created in-house but, due to our rapid growth, we needed a perspective from the outside and wanted to find a long-term partner that would define our brand. Not only did 2FRESH present the winning pitch but it also offered a new approach through human-centered design (which is closely related to our beliefs)", explained Pavlína Louženská, Marketing Director at ZOOT. The agency 2FRESH worked closely with ZOOT's in-house team and together they created the ZOOT. SOMETHING for Christmas campaign. "The idea was developed on the basis of a customer opinion survey in which the reply to the question, "What do you want for Christmas?" most often began with the word "Something": Something to wear; Something practical; Something to warm up!" clarified Tomáš Urbánek, Creative Leader at 2FRESH.
Customer's opinions were also given due consideration in later stages of the creative process. Their opinions helped reach a decision on which of the two different TV spots should be selected. "Usually the aim of a survey is not to come up with groundbreaking facts but to find inspiration and valuable suggestions. And one must really take these into account so as not to let the creative ego prevail!" added Tomáš Urbánek. The survey was a crucial aspect for the creative team as well as a condition under which the agency entered into the tender process. "We only enter tenders that ensure our client will agree to conduct a survey and also, work closely with us. And with ZOOT it worked out well!" explained Markéta Freiwilligová, Senior Account Director at 2FRESH.
The first phase of the campaign (running from 17. 10. 2016 till the end of October) includes radio ads and TV sponsored messages broadcasted on Prima Group, Nova group and Óčko. Evropa 2, Frekvenci 1 and Rádio Krokodýl air the Prague and Brno targeted radio ads. The ads mainly focus on communicating ZOOT's main benefits: In Prague, Brno, and now, also in Bratislava, ZOOT offers same-day delivery service; a long standing history of providing customers with the comfort of Try & Buy stores located all over both the Czech and the Slovak Republic; free delivery, and a 90 days returns policy.
The second phase of the campaign (starting early November) will encompass three video short story spots that ZOOT produced with the young director Adam Vopička. The 360° video campaign will run on internal and external channels, including TV. "We divided the campaign into two separate parts this year. The first phase doesn't use the word "Christmas", it doesn't use Christmas-themed designs, and it doesn't encourage customers to get their Christmas shopping done early, but, instead, it focuses on presenting the benefits that ZOOT offers. The second phase, promotes the catchphrase "SOMETHING for Christmas" whilst drawing attention to the fact that ZOOT offers items from more than 300 brands and that it has over 300 000 pieces in stock,"  foretold Pavlína Louženská.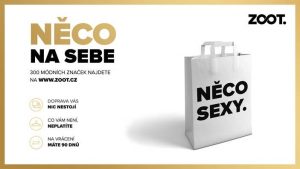 Other posts